Hello friends, welcome to the first "Shit I Love Sunday"! I've noticed several other bloggers making posts about things they love. And since I need to fit in with the blog crowd I decided to join. A lot of these lists have been posted weekly, which I find to be a little aggressive. I mean, I typically don't find 10-15 new things to love every week. I'll admit I get distracted easily and move on quickly, but not that quickly.
So let's jump in because it's time to share…sharing time, it's not just for Kindergarten anymore!
*Coloring – Lately, one of my favorite things to do before I go to bed is turn on Netflix and color in an adult coloring book with my gel pens. I find it relaxing, it's lovely, I highly recommend. This is the coloring book I've been obsessed with lately, designed by Kendall Rae (@kendallraeonyt) – a YouTuber with some amazing and fascinating videos about conspiracy theories, missing people and other topics!
*Daily Deposit Journal – This is a classic case of "I don't know how I started following this motivational girl on Instagram but now I'm obsessed with her." Macy McNeely (@macymcneely ) is this girl. And she's awesome. And inspiring. And the creator of the Daily Deposit Journal. By filling out this page in the morning, I've found myself more motivated to get things done. In fact, on Monday I came home from work and decided to fill out a page at 6pm. By 9:30pm, I had finished all five tasks on my Game Day List. The last of which I actually put my phone down and went to accomplish. I felt guilty for playing solitaire without having the final Game Day List item finished. So I got up and finished it. Check her out! And it's truly BRAVE SZN because I'm sharing a personal page with y'all above.
*Libby App – I randomly stumbled upon this app in the App Store last weekend. Simply enter your library card number and you are automatically connected to the resources in your local library. You can place holds, reserve books to pick up at a local branch and even (this is what got me hooked) check out, download and listen to audiobooks within the app! Without having to leave the house! I personally love listening to self-development books in audiobook format. A hobby that can get expensive so this app has truly changed my house cleaning, commute and life.
*Mason Ramsey Sweatshirts – Yes, the Walmart Yodeling Kid, the YouTube sensation, thee Mason Ramsey. I've been wearing mine nonstop because how could you not??
*Old Sea Brigade, Ode to a Friend – This album is absolutely fantastic, I listen to it all the way through without skipping a song. In this day and time, that's rare. I describe it as the perfect album to take a rainy road trip down the coast of New England. A cup of hot Dunkin coffee in the cup holder, this on the stereo, a starting point at the tippy top of Maine and a destination of Boston are all the elements for a perfect weekend.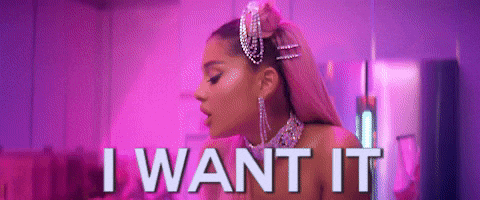 *7 Rings, Ariana Grande – I spent 4 hours of my workday on Friday listening to this song on repeat. As a child, I loved The Sound of Music (which she samples in the song) and as an adult, I love Ariana Grande. So this song is the best of both these things. I am obsessed and I'm so glad we found the 2019 Mood within the first 20 days of month!
*"You" on Netflix – I just finished Season 1 and it was WILD! I thoroughly enjoyed the whole show but my only complaint is the Penn Badgley (aka Dan Humphrey) of it all. I hated him on Gossip Girl and he continues to annoy me now. However, I will say that he played his character in this show well. So good for you Penn, I guess.
*90 Day Fiancè – OH MY GOD. HOW HAVE I NOT WATCHED THIS SHOW UNTIL NOW?! I started watching it a month ago on a Sunday to cap off my wild birthday weekend. This season features a couple that lives here in Vegas (Colteee and Larissa) who happen to be highly problematic. Thanks to these two I found myself extremely invested in this journey. Obsessed..mainly because it makes me feel much better about my life.
*Surviving R Kelly – In all seriousness, I don't "love" this show. I have found it to be a very important piece of work in today's society, however. The women featured are so BRAVE for telling their stories and it continues to blow my mind how he has never been convicted of any of the vile things he's done. I'm praying that 2019 is the year he gets put away forever. Even though I'm not a supporter of "cancel culture" in general, this is the one situation that I'm in full support of a cancel. #MUTERKELLY. The show can be found on Lifetime's app and website.
Happy Sunday!