Hey guys, I'm back with my Bach commentary! The last couple of weeks have felt a little chaotic and I couldn't find the energy to even try to decipher all of these girls and their behaviors. Luckily, I was so thrilled for all the drama to unfold last night!
So this week we get to start off with a rose ceremony and a mild, albeit temporary, conclusion to the Corinne/Taylor drama. And I was MORE than ready for that!!
Just some more "you're not emotionally intelligent," "you're a bully" nonsense, but it was hilarious to watch. Taylor, you literally need to stop talking. You have no room to talk about maturity or anything of the sort.
#TeamPrincessCorinne
It was brought to my attention on Twitter that Corinne is in fact older than Taylor. By a year. So there's that.
Next we got to see the actual rose ceremony to conclude the group's time in Nick's hometown. I was thoroughly disappointed that Sarah Sneakers went home. She was clever and cute, but not much of a standout. Taylor's immature ass should have gone home. Such is life on The Bach.
I think it was at this point that Corinne spoke my favorite quote of the night. I liked it so much that it is my new Twitter tag line.
"Come at me. I'll getcha." – Princess Corinne
So now we hightail it to NEW ORLEANS!! A city that I've been dying to visit. From the history, the voodoo, the beignets, it's all so intriguing and magical. Literally.
Plus it's given me an excuse to listen to "Louisiana Bayou" by Dave Matthews Band while I write this. Win-Win-Win.
It is revealed that we have a 1-on-1, a group date and DUN-DUN-DUN…the ever-dreaded 2-on-1. I bet producers NEVER thought we could guess who would be the lucky recipients of that one.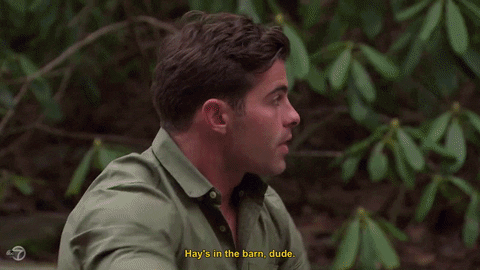 [Sooo many Alex/Chad vibes from Jojo's Bachelorette season. Remember kids, milk is delicious.]
My second favorite Rachel gets the 1-on-1 date and I couldn't have been more thrilled. I was sooo jealous of their date: culture of the city, the jazz band, the beignets (duh). Best date of the entire franchise in my opinion. It made me want to book a flight so I could eat while also dancing in the middle of the street. And drink a Bloody Mary. Then again, I could always go for a Bloody.
Plus their chemistry is amazing. It was so refreshing to watch them together. She really is everything you could want in a partner. Is she still single??
Anyway…back at the ranch aka JW Marriott…
Of COURSE Corinne and Taylor are on the 2-on-1. OF FUCKING COURSE. YESS. (direct quote from last night – too good to edit.)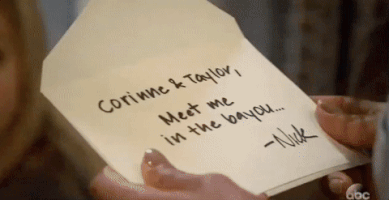 But first…Group Date time! In a haunted house! This episode only kept getting better. Like honestly, date of my dreams, I would be so on board with something like this.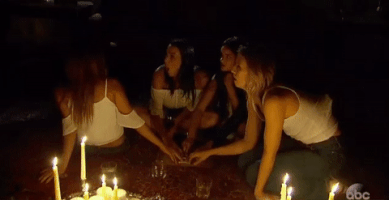 But come onnn Producers, I see you with the special effects. How was it not obvious to the girls in the house? Whatever, at least it gave me a chance to refill my bowl of Thai curry.
Danielle M got the Enchanted Rose (sponsored by the new Beauty & The Beast movie! #ad.) And thank God she did because that definitely gave me some points in the Fantasy League.
The best part of this segment was hands-down the check-ins with Corinne and Taylor preparing for the 2-on-1 date.
Corinne: a face mask, bottle of Champs, bubble bath, room service. Yes this girl knows what's up. Treat yo-self girl!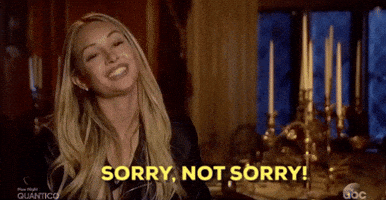 Taylor: Sitting on the floor, in front of a mirror, surrounded by candles and essential oils. Am I the only one who thought this looked like a seance?? She's not only mean, she's probably a witch.
Finally, we get to the part of the ep we have ALL been waiting for: the 2-on-1 date featuring round 2 of the Corinne/Taylor drama!!
So they're going down on the bayou to do what?
*THIS IS THE PART WHERE ABC STOPPED WORKING AND THE CHANNEL SIGNAL WAS LOST AND I WAS DISTRAUGHT FOR 10 MINUTES*
Luckily for me, signal returned and all was right with the world. I tuned in at the part where the tarot card reader wanted to read the girls separately. So these girls, and Nick, are hanging out in the swamps, huh? I was secretly hoping Corinne would accidentally knock Taylor into the water.
More drama, more Nick stuck in the middle and, finally, a resolution. BYE TAYLOR!!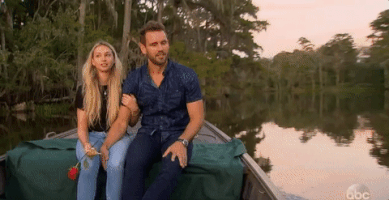 As Nick left her on an island, in the swamp, by herself ALA Ben leaving Olivia on a windy island, by herself. I cheered. I laughed at the similarities. But something in Taylor's tone told me, she wasn't done yet.
I found it very creepy that she was hanging out with the people around that bonfire. They were probably practicing some sort of voodoo or sacrificing a goat. Taylor seemed to be loving it all. It must have inspired her to go crash Corinne and Nick's dinner.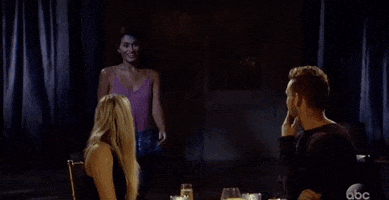 Can you say Chad whistling while drunkenly stumbling through the woods?! I can. I just did.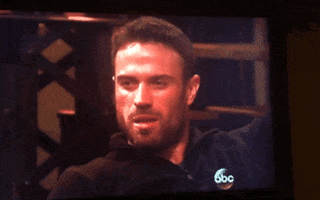 And that's when they hit us with the "To Be Continued…" Bastards. I can't wait a whole week to find out what happens next. Especially since Nick alluded to sending TWO women home on the 2-on-1.
Are his words yet another victim of shady Bach editing or is it really true??
Either way…I am so not ready for Corinne to leave us yet. She has so much potential and needs to be given time to blossom.
Last night really was just the "Corinne & Taylor" show and I'm not even mad. I was getting a little snoozy with Nick and his mumbling and these girls who don't seem to have much personality (not all, but most).
Congratulations Bachelor Producers you have me craving another episode already and it's only Tuesday.
Until next week…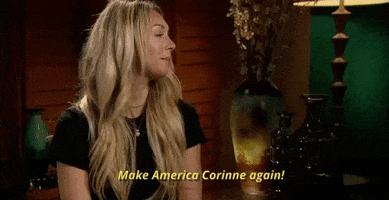 *Gifs from giphy*