Heyyyy Bach Nation!
The only song that has been playing in my head this week whenever I think about The Bachelor is "Everybody (Backstreet's Back)." Maybe it's because they have a residency in Vegas at Planet Hollywood this Spring/Summer (see you there!). Maybe it's because I'm doing a project at work that features the boys. Either way I'm still so happy to have BACH back on my TV.
WEEK 2! I COULD NOT wait to get the drama started and this week did not disappoint!
---
First Date Card: "Always a bridesmaid…"
Ok so we're doing a little multi-theme wedding photo shoot. Not awkward at all after knowing these girls for a rather booze-filled 12 hours. I do love watching these dates, however, because they give us a glimpse into how these girls react in competitive scenarios.
Here are my notes/thoughts on the date:
Vanessa Canada #1 – 80s Wedding – She's classy and I think she has staying power.
Sarah Sneakers – Vegas Elopement Wedding – LOL! Vegas…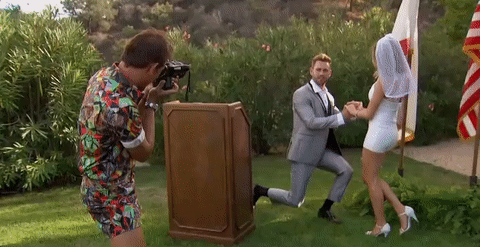 Alexis MOTHAFUCKIN DOLPHIN SHARK – Shotgun Wedding – SHE'S HILARIOUS. This girl is someone I could be friends with, which also tells me she won't last very long.
Hailey Canada #2 – Biker Wedding – She's annoying. Apparently, I have no grounds to back that up, but whatevs.
Lacey – Real Exciting. Obvi. Glad she thinks Nanny Girl is inaprops. Was she a bridesmaid? There are still too many girls to keep track of at this point.
Brittany Spears – Adam & Eve Theme – I am hereby naming her "Brittany Spears" because I couldn't get over how hot she was while also reminding me of the "I'm A Slave 4 U" video. Good Hair HOT AF. This is the best. This is my fave. She should have won. Her body, her hair…freakin GOALS man. Editor's Note: Looking back, I don't disagree with myself.
Jasmine G – Bridesmaid in the 80s Wedding. Kissed Nick as a bridesmaid. (Side note: did not know how to spell "bridesmaid" before last night.)
Raven Arkansas – Bridesmaid – Bonding over the fact they've both been cheated on. She's the best. She's honest, sassy and funny. Got the glitter off his nose and I really appreciate that she looks out for her people like that.
Danielle L'Nails – Traditional Wedding – She is GORG.
Taylor Maybe Stop Talking? – Princess Wedding – Gag me with a spork. From Taco Bell. Not because she isn't pretty, but because I hate the whole "princess wedding" theme. And because I could realllly go for a Chalupa right now.
QUOTE OF THE NIGHT: "I've met girls like Corinne before…and they are not my friends."
Elizabeth W – Bridesmaid – That's all I wrote.
Corinne Princess Nanny Girl – Beach Wedding Theme – Even though she was the last to have her photo shoot, she surely was not going to be least. She's already extremely possessive over Nick and could already feel the competition creeping in on her territory as she watched the other girls take pictures and make out with "her" man. What's a Princess Nanny Girl to do? Apparently, take her top off. Which worked in her favor. Are we surprised?
Maybe she thinks she's on a Tinder date? Could that be the reason she's already half naked in a pool? I mean, it makes sense if you think about it.
Not to mention how she's already winning villain points by interrupting both the MOTHAFUCKIN DOLPHIN SHARK and Taylor Maybe Stop Talking?.
But then to our surprise, Taylor Maybe Stop Talking? steals Nick back from Nanny Girl!!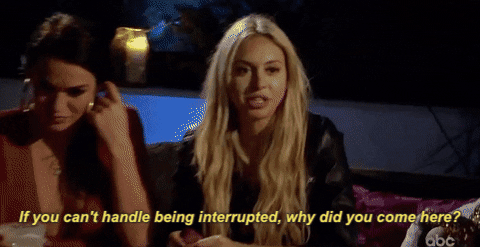 I'm loving this drama. LOVING it. I love her drunk-y pants gallivanting all over this date. I love her poor attempt at a Gossip Girl reference, but, like, maybe stop trying to make fetch happen?
This girl is dramatic, cringe-y and makes for some damn good television, so I'm not mad. Keep in mind, she's going to bring the spice for the first few weeks until she turns stale and boring like a gluten-free bagel that hasn't been properly stored. Then she'll be kicked off, cry and, of course, show up on paradise while simultaneously promoting Skinny Tea on Instagram, running that million dollar business and requesting cucumber snacks from her Nanny.
And, surprise, surprise she gets the rose. Lesson learned: If you want to win, take your top off.
Ok moving on…
—————————————–
First One on One: "Our relationship is about to take off" aka… A Helicopter ride to a yacht
With my new fave: Danielle M Quiet Tennessee
I think this girl is an absolute angel – she's cute, she's so nice and apparently from Nick's hometown. Small world eh?
I loved that Nick was mind-blown over the hot tub, on the yacht, in the ocean. (First HOT TUB of the season!)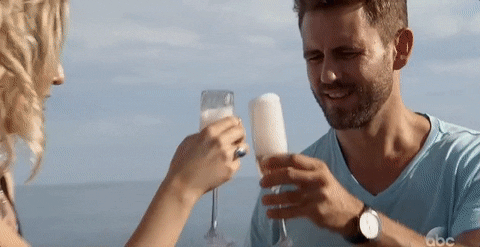 Danielle opens up about her ex-fiance whom she found dead from a drug overdose. This girl seems strong (how could you not be after that?) and very genuine.
Final notes on the date:
-She got a rose.
-She's my new fave.
-Her hair color is pretty.
—————————————–
Date Card #3 (Group Date): "We need to talk…"
At the Museum of Broken Relationships…? A little awkward don'tcha think?
And their date is to publicly breakup with Nick? I think this is what we call a sadist.
Disclaimer: I did start switching between The Bach and the Bama game at this point – so I might have missed some things. However, I did NOT miss the awkward breakups in front of a live audience, that all-too real slap AND the Liz confession!
Christen – This girl is super adorable and I like her a lot. Her breakup was sassy, but not a standout.
Astrid Karate Chop – She karate chopped a rose. Was that a karate chop? I was distracted by the Bama loss 😦
Jaimi – Has a septum ring. And an ex-girlfriend!
Kristina Teeth – Reminds you to floss! Or you'll get dumped!
Josephine Psycho Wiener Girl – Mmk. Was it just me or did this seem a little TOO real? Like maybe she's been in a scenario like this before? I mean she actually SLAPPED him. The "psycho" portion of her nickname still stands.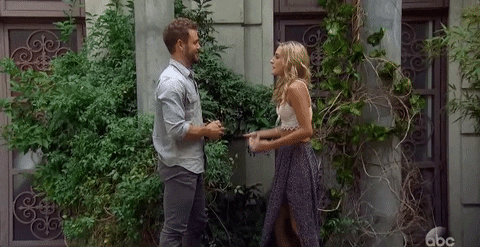 Liz Stalker Vegas Girl From The Past! – Oh. Hell. Their time together in this museum is SO awkward! He's clearly uncomfortable and avoiding her. I can't believe she put the whole story of their one, singular night together out on the table. But then again, if you talk about something SO MUCH, it's bound to come out to this group.
At this point I'm changing my opinion of loving her to thinking she just needs to leave. Like girl, what exactly did you come for??
—————————————–
*GIRLS WHO SAT AT THE MANSION ALL WEEK:
Rachel Dallas Lawyer – Didn't get a date this week, but I'm not concerned. She did get the first impression rose after all.
Dominique – I have nothing to say.
Whitney – I couldn't even pick you out of crowd.
---
*BYE FELICIA – WHO WENT HOME:
Liz Stalker Vegas Girl From The Past! – While I'm sad to see my one of my fave nicknames of the bunch leave, I think it was probably for the best. I mean, can we talk about those crazy eyes? NOT a good sign.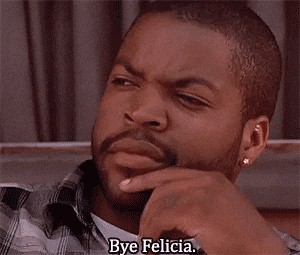 We do want a "dramatic season"…not an absolute shit show. This move shows Nick might be more serious than some of these girls are giving him credit for. Then again, why is this his fourth time??
She talked about the first night her and Nick met so much that we were all sick of it and ready for her to take her one-song show out of the Bach Mansion.
Also, if any of these girls are going to leave because of an ex-hookup that they happened to run into? Good leave, we don't need you here. People hookup with people before they meet their spouse. You've done it too, so calm TF down. K? Cool.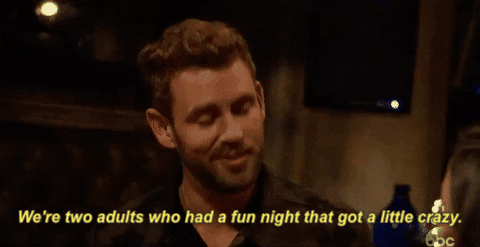 Plus…NO rose ceremony? And Bama lost? Not an ideal Monday, but that's what The Bach does…keeps us on the edge of our seats.
Until next week….