The Bachelor is back and I'm happy to say that I'm SO much more pumped for this season than last. Maybe it's because I was still dabbling with the show at this time last year? Or maybe Ben was not someone I could see myself being interested in? Either way, my excitement for last season cannot compare with the pure joy I felt when I tuned in on Monday night.
The first ep of the season is always somewhat of a shit show and this one did not disappoint. While I attempted to take notes on every girl that exited a limo, it got to a point where they all blended together. Hellloooo red dresses.
(If I go on this show I'm def going to make my own dress out of a Snuggie. Don't think we didn't notice how long the first night went on producers. I saw those girls leave at sunrise and I'm allll about a mid-party nap.)
The show began with that obnoxious backstory about Nick, his "journey for love" and optimistic "Fourth time's the charm!" rhetoric. If I had been on this show three times before, I probably would just give up and go start a tequila company. Or just sell it on Instagram. Additionally, if I were one of these girls I would wonder why Nick has been rejected…twice.
Next we had some mingling, some drinking, some Nick-stealing and crazy already starting to appear. It made me giddy like Christmas morning and we hadn't even had a Rose Ceremony yet, which came next.
To be honest, I don't pay attention to ALL of the girls for the first couple weeks. There are too many and I'm not trying to get emotionally invested in someone who's leaving right away.
That being said, I don't feel confident enough in my bracket to present a Top Four – I haven't even made my final four picks on my Bach Fantasy League yet (yeah, I know) – but I will present you with the girls I put under the  "YES" category aka the "they will remain on the show long enough for their baggage and drama-causing tendencies to appear" category.
YES:
Rachel – Dallas Lawyer – Love her! She's strong, independent AND she got the FIRST IMPRESSION ROSE! YASS! The connection between the two was palpable at first sight and their chemistry is going to be AMAZING. However, she's not my top pick. Which brings me to…
Vanessa – Canada #1, Special Needs Teacher – This girl is amazing and I think she's there for the right reasons (lol – I definitely would not be, but whatever) I appreciate her for being everything I am not. She's compassionate, heartfelt and speaks French, Italian and English. Ok. She's my top pick for the whole shebang and word on the street is she's the front-runner.
Liz – Stalker Vegas Girl From The Past! – I think Nick might be slightly butt-hurt over her and wants to see where it will go. I predict she goes "Vegas-Crazy," which I am looking forward to.
Corinne – Princess Nanny Girl – A 25 year old "business owner" with a NANNY. SHE. STILL. HAS. A. NANNY. The Princess will stick around forever AND be the first to put out. She annoys me, but I appreciate her aggressiveness. This is going to be goooood. But in all honestly, please go home.
Josephine -Psycho Wiener Girl – The following is what I wrote about this girl: 24, Santa Cruz, Nursing Student, CRAZY BITCH. I think that covers it all.
Dominique – – She has no nickname yet because I don't even remember meeting her, but apparently I liked her. Stay tuned.
Hailey – With The Good Joke, Canada #2 – I loved her "girls with no underwear" joke so much that I practically spit out my wine. Which rarely happens. That is all.
Alexis – MOTHAFUCKIN DOLPHIN SHARK – Alexis is from Jersey and doesn't understand the difference between a shark and a dolphin. But that doesn't matter because she seems like an absolute blast. I love a Jersey girl who gets drunk and jumps in the pool on the first night. So, like, same. I also noted that she has a "cute dog". Also winner of:
*Best Job Title – "Aspiring Dolphin Trainer"
Taylor – Maybe Stop Talking? – A Johns Hopkins educated Mental Health Counselor. (LORD KNOWS this show could use a few of those.) She lives in Seattle and she seemed smart until…SHE TOLD HIM THAT HER FRIENDS HATE HIM. *Pro Tip: Don't say that when you first meet him. Don't say that ever. Maybe Stop Talking?
Sarah- Sneakers – entered by saying that she was "another runner up". Love her sense of humor.
Danielle M – Quiet Tennessee – She grew on me as the episode went on, but I'm not sure how long she will last. Maybe Nick needs a quieter girl to balance out his ego. And she's a nurse so if he pulls a muscle while working out she could probably take care of the issue. Or would he need an athletic trainer for that? IDK. *Side Note: It took 87% of this episode for me to figure out her actual, given name.
Raven – Arkansas – Raven is 25. Raven is from Arkansas and owns a clothing boutique. Raven is as southern as they come. I want to bring her to Vegas and party with her. Oh, and I'm guessing she'll be Top 10.
Danielle L – L'Nails – She owns three nail salons which is cool. I honestly got so confused since there are two of them. Carry on…
My Favorites:
Rachel Dallas Lawyer, Vanessa Canada #1, Liz Stalker Vegas Girl From The Past!, Alexis MOTHAFUCKIN DOLPHIN SHARK, Taylor Maybe Stop Talking?, Sarah Sneakers, Raven Arkansas, Danielle M Quiet Tennessee, Danielle L'Nails
WHO I'M UNSURE OF:
Christen, Astrid, Elizabeth W, Jasmine G, Christina, Whitney, Jamie, Brittany
*None of these girls have nicknames yet. Please stay tuned.*
WHO WENT HOME:
I honestly have no idea. I'm a terrible recap-er. But at this point does it really mater??
FINAL FOUR:
Rachel
Vanessa
Liz Stalker Vegas Girl From The Past!
No Clue Yet
*Conclusions:
1. This is going to be a very sexual season. Brace yourselves because these girls (and Nick) reaaalllllyyy like sex. Really. Nick even wants to give America a "happy ending"…need I say more?
2. I can't wait to see what Liz Stalker Vegas Girl From The Past! says and does. Plus how Nick will handle all that jazz. And by "jazz" I mean "Vegas-Crazy."
3. Why is Chris Soules still appearing and giving advice? Wasn't he the terrible one? Correct me if I'm wrong.
4. Maybe the reason I started out disliking Nick so much is because our dating lives look eerily similar. Hmm.
It's going to be one hell of a season and I'm so relieved that I get to watch it from the comfort of my couch, portable phone charger and wine glass in hand. : )
Until next time Bach Nation,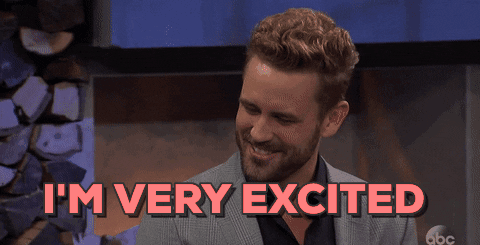 phot0: e! online / gif: giphy